Preparation
Before the ride
Before your record or import data, you should familiarize yourself with the following settings.
Environment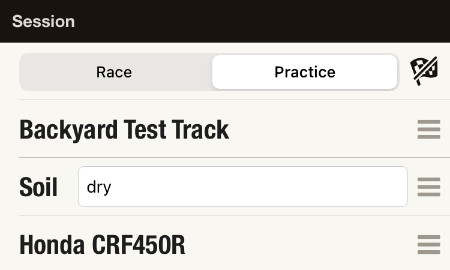 Race or Practice?
Which track are your riding?
How are the track conditions?
Which bike are you riding?
Bike Setup
Select a bike setup or create a new one.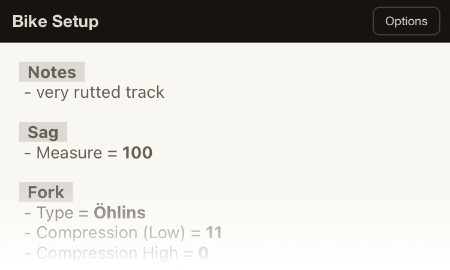 At the top of the Bike Setup section you see an Options button. Tap that button, if you want to load the
last setup overall
last setup for the selected environment
fastest setup for the selected environment (best lap time)
Many riders don't care for bike setups or they just mess around with the settings without a plan and without keeping track of what really worked and what doesn't. With MX Buddy you can keep track of all your bike setups for all the different tracks and track conditions. Solve that problem systematically!
Why should I make these settings?
All these settings will be assigned to recorded or imported riding sessions.
The most important setting is the track. The track contains the GPS track setup (finish line, segment gates), which is necessary to calculate lap and section times. In addition the track assigned to your riding session will give you the opportunity to compare laps from different sessions!
Another important setting is the track conditions (the soil). You can create your own set of texts here, like 'muddy' or 'rutted' or whatever you want to use as a reference for your lap times and bike setups.
Access each setup from all your riding sessions at any time in the results section of the app.
And a few useful statistics are created along the way too!